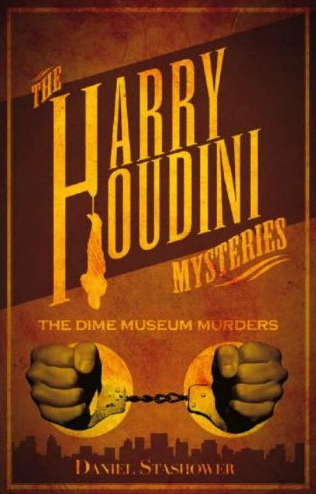 I just finished reading the first two books in The Harry Houdini Mysteries series. I'm a big fan of the mystery genre having been raised on Agatha Christie and Arthur Conan Doyle. This series is in a similar vein with magic thrown into the mix.

The books are narrated by 'Dash', Harry's brother and agent. They begin with Dash as an old man, talking to a reporter, reminiscing about the great events in Houdini's career. Houdini himself is long dead, so Dash feels comfortable 'revealing' some of the stories of their youth, less known to the press.
The first book sets the scene of a Houdini before he is famous. Harry, his wife Bess, and Dash work side shows to pay the rent. Houdini is magnificently arrogant, acting like a prima donna. Dash and Bess seem to have infinite patience with him, even though he wanders about referring to himself in the third person and praising his own brilliance. I think I wanted to punch Houdini throughout most of the first book. Fortunately, Dash is a much easier character to get along with and as the story is told from his perspective, Harry is less prominent than you might expect.
The first book's mystery isn't too mind bending. Like any Christie book, you're presented with a small cast and it's really a process of elimination to work out who dun' it. The second book was more compelling as it involved the actual working of a magic trick and how it played a part in the murder. Houdini slowly grew on me, as well, as by the second book he's more sympathetic and a little more grown up.
They're a fun read, I'd recommend them for mystery fans.