There are now books and blogs about tips for planning for the San Diego Comic Con, but I still believe that the convention is too much of a whirlwind of awesome to ever truly have a concrete plan.
What is the Defective Geeks' number one tip for surviving SDCC? Go ahead and make plans… but remain flexible or you will go INSANE!
Trust me. You can make an intricate plan– only to find out that the schedules have changed the day you get to the convention (happened to me a lot). The next thing you know, your one coveted and must-go-to panel has been re-scheduled for 10am, instead of at noon when you had planned to line up for it by 11am! Don't set yourself up too much for disappointment. There was a time, just a few years ago, when waltzing in and out of Hall H was possible. Now, those days are gone– you have to honestly camp out to even get inside that room.
In my opinion, dear readers, the best way to experience this particular convention is to not attend for the Hollywood hub-a-loo. Channel your true inner nerd and look at the smaller panels involving comic/video game industry insiders, web shows, artists, authors, etc. One of my favorite panel speaker in the past years was Eoin Colfer, author of the Artemis Fowl book series. He was wonderful and hilarious! Seeing him was more worth it than peering at the celebritos from the newest Twilight movie from 300 rows of chairs away.
Many of the other bigger rooms (i.e. Ballroom 20)  you will need to line up for at least one to two hours in advance. A lot of times, you will need to sit through a panel before the actual panel you wanted to see in order to guarantee  yourself a seat. Yes. It's kind of nuts and oftentimes, frustrating. Just prepare yourself for that 50% chance of getting turned away when a room fills up… it is always a good idea to have a "back-up", smaller panel you would want to see in order to console your bleeding, nerd heart. Or just loose yourself in the Exhibit Hall and find a gem of a merchandise that will fill you with glee; or harass one of the artists that are available at their booths! My number one favorite person to harass at SDCC is David Mack! Highly recommended! Hooray! It's cool, though, because I think he doesn't mind… or at least tolerates it (mwahaha!).
This year, I will only be there for Saturday and Sunday (unfortunately– so many awesome panels on Thursday and Friday! WEEPING!). Here are the panels I am loosely aiming for on both days. If you'll be at any of these ones, look for me and say hello!
Saturday
11:00-12:00 Reading with Brains: The Rise and Unrelenting Stamina of Zombie Fiction—Authors and survivors include Amelia Beamer (The Loving Dead), Max Brooks (The Zombie Survival Guide), Seth Grahame-Smith (Abraham Lincoln, Vampire Slayer), Mira Grant (The Newsflesh trilogy). Walter Greatshell (Xombies: Apocalypticon), Jonathan Maberry (Rot & Ruin), Ryan Mecum (Zombie Haiku), John Skipp (Zombies: Encounters with the Hungry Dead), and Joan Frances Turner (Dust). Moderated by Maryelizabeth Hart, Mysterious Galaxy. Room 7AB
12:30-1:30 Costume Designers and Costume Illustrators: Designing for Feature Films—Costume Designers work in collaboration with Directors, Production Designers, Directors of Photography and Actors in creating fantastic and memorable stories told via moving images. Characters created by writers and Comic Book Illustrators are made real for the screen via the artistry of Costume Designers. Meet the men and women who are the Costume Designers & Costume Illustrators on this year's blockbuster films. Moderator Susan Nininger, Costume Designer (Bodyguard), and Member of  the Costume Designers Guild, Local 892, hosts Costume Designers and Illustrators from CDG, local 892: Michael Wilkinson and Phillip Boutte Jr. (Jonah Hex), Christine Bieselin Clark (Co-Designer, Tron) , Ha Nguyen (Priest),Laura Jean Shannon (Scott Pilgrim), and Shawnelle Cherry (10,000 Days). Room 5AB
2:00-3:00 The Guild— Now in its fourth season, The Guild is a multi-award-winning independent web series that started on YouTube and has grown into a worldwide phenomenon with over 50 million views, a groundbreaking distribution deal with Microsoft, a chart-topping song and music video, and a comic book from Dark Horse Comics. Writer/producer and Comic-Con special guest Felicia Day, producer Kim Evey, director Sean Becker, and the cast of The Guild including Wil Wheaton are on hand for a discussion and Q&A, along with the debut of never-before-seen content and other surprises. Indigo Ballroom, San Diego Hilton Bayfront
4:00-5:00 Scott Pilgrim Vol. 6: Scott Pilgrim's Finest Hour vs. The Fans— It's been six years and six volumes spanning over 1,000 pages, and you've been there since the beginning! But there's always been one burning question itching at the back of your brain that you thought would never be answered. Think no more! Ready your Q's, mind your P's, and joinScott Pilgrim creator Bryan Lee O'Malley for a battle royale as he quibbles the quips of his worst enemies…his fans! Room 25ABC
On my "Hall H wishlist":
7:15-8:45 Kevin Smith— He's back! Spend a quiet, refined evening with the one-and-onlyKevin Smith, who will no doubt solve all the bad things in the world for you or, at the very least, make you laugh a few hundred times. Hall H
Sunday
11:15-12:15 Supernatural Screening and Q&A— Cast members, executive producers Sera Gamble (Eyes) and Ben Edlund (Angel), and creator/executive producer Eric Kripke(Boogeyman) present an exclusive sneak peek at footage from the highly anticipated sixth season of Supernatural, which moves to a new day, Fridays at 9pm ET/PT on The CW this fall. The panel will answer questions from the audience and also show a portion of the special features from the upcoming Supernatural: The Complete Fifth Season DVD and Blu-ray release, in stores September 7. Supernatural is produced by Wonderland Sound and Vision in association with Warner Bros. Television. Ballroom 20B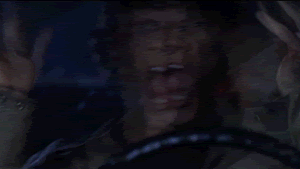 To everyone who will be attending this year, the best of luck! Remember, no matter what… the most important thing is to have a lot of fun. See you guys there!