S'up guys! I know, long time, huh? Space Pirate Queen was going to stalk me outside my house so I thought I better get cracking on something recent! Thus, I'l give you guys more about the inner workings of Anime Los Angeles, an anime convention that took place at the Los Angeles Airport Marriott by LAX.
Out of the many bazillion conventions I've been to, I've never missed out on this one since its humble beginnings at the Van Nuys Airport. I guess a big reason is that it's so close and the timing's good and when there are no big obligations. But that aside, I love the environment and the people here. Even though ALA grows at a steady rate every year, the relaxed and friendly nature of this con has not changed very much. It's relaxing to just be able to sit down and watch the con attendees buzz about excitedly from the comforts of a beanbag or a lovingly-painted bench. It feels like one big massive sleepover with the helpful and hospitable staff always just around the corner to point out where to get snacks or where a cosplayer can get some help to fix their costume.
I made the trip up to Los Angeles in the early afternoon with my partners-in-crime Lauren and Kelly. It wasn't packed intensely like when we went up to Fanime so that was ace, but I made them detour a little before we left the OC in order to buy some boba milk drinks.
Why?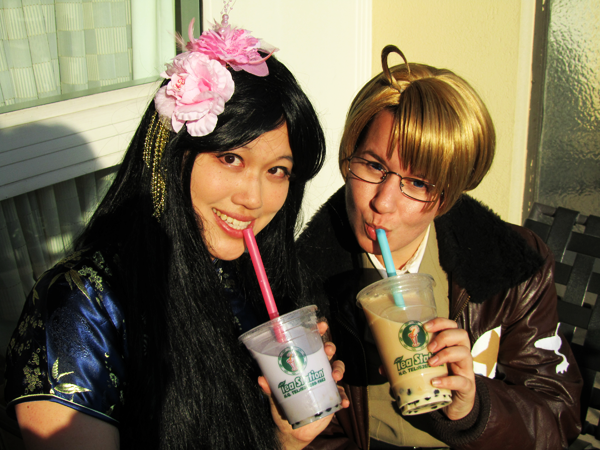 I had promised my friend Amy (right; dressed as America from Axis Powers Hetalia) that I'd dress up as Taiwan (same series) and we'd have an arms trade boba date at ALA. Mission accomplished! This is also when Sklathill started making ALA the Convention of Slow-Motion Videos.
The first day went by at a relaxed pace and we ran into a few familiar people before we found Amy and her friends doing a small America and Rosie the Riveter photoshoot outside the hotel. We helped out a little bit and witnessed quite a few antics! And added a few of our own, proving that you don't have to be half our age to act stupid.
I changed into my Black Hanakawa (Bakamonogatori) cosplay after the sun went down which was kind of a necessary mistake. My character is the darker and vocal alter-ego of one of the main characters that comes out during the night when she is asleep. Unfortunately, that means wearing a negligee and taking photos in the cold. BRR! Why do I cosplay. But the photos came out nice (here).
I tormented my friends with this tongue twister: "Can you im-nya-gine an im-nya-ginary men-nya-gerie m-nya-anager im-nya-gining m-nya-anaging an im-nya-ginary men-nya-gerie?"
Lauren and I almost always watch the AMVs at conventions so we sat through this year's. I wish that I had known just when the deadline was for the AMVs because many of the videos this year fell short or were repeats. But here's my favorite! It played at Anime Expo 2010 but I was just as excited to see it here as I was then.
We quickly got some pictures of Lauren and of Kelly on the pool deck since it was relatively empty. Lauren's dressed as a random squirrel and Kelly is dressed as Nabuca (Now and Then, Here and There. We started calling her 'Nyabuca' once she put on my cat ears).
After that, we changed back into normal clothing and left the hotel for dinner. It happened to be First Friday which is a monthly smorgasbord of food truck goodness so we hightailed it down to Venice (part of Los Angeles, not Italy!) to see which trucks had come to feed the hungry masses. Sklathill and I got food from the Frysmith. I had only tried food from the LA food trucks at the Sanrio 50th event but it did not prepare me for how amazing the kimchi fries were.
We arrived back at the hotel when everyone's either partying or winding down for the evening. Since we are old farts, we decided to just stay in the room. Poor Vince and Kelly had to endure listening to the (hilarious) Hetalia dub as Lauren and I sewed the finishing touches on our costumes. Sorry, guys! (and thanks for the pictures!! My camera was a brick for ALA!)
I am splitting this report into either two or three parts. I originally wanted to do one giant one but alas, 1) I'd be up for a while looking through pictures and it's already 2am and 2) it probably would be easier to read. More tomorrow! (today, I mean.)
<3