Huzzah! Finally, right? Well, it will be worth the wait because of the awesome videos. :)

Day Two
We all got a good night's sleep in order to get up ~*bright and early*~ to change into our group cosplay. Both Vince and I woke up early to work out. He left earlier to go jog around the surrounding neighborhood while I hit the small hotel gym. Exercise is important! I did about 40 minutes of running on the treadmill before moving onto weight training when Vince met up with me and went back to the room to check our roommates who were either still sleeping or just getting up.
It was a bit surreal to see the pool area go from empty to completely PACKED in those two hours. Friday had been a little low-key due to many people having school or work that day so of course Saturday is the big no-holds party day from real life. It's just really amazing how well this space works for an anime convention.
We all got dressed as characters from the series Bokusatsu Tenshi Dokuro-chan (aka Buldgeoning Angel Dokuro-chan). Basically it's a very silly and pervy comedy series about a high school boy and his guardian angel…who beats him to death and brings him back to life in crazy ways. We had cosplayed this series at Fanime but our friend Alice wanted to be part of the group as another character so we decided to do it again for ALA.
After we were all finally done (I have a habit of always misplacing my socks), we went downstairs and ran into Space Pirate Queen and MissTea! Both girls had decided to drop by for a half day so we chatted it up as we watched the youngsters filter by. It was also here that I discovered that Kelly also knew MissTea from high school. Small world…

L –> R: Me (as Dokuro), Space Pirate Queen, MissTea, and Kelly (as Sakura)

They took my prop bat Excalaborg for a quick shot.

Michelle and Ashley as Digimon. Their hoodies are adorable, non?
Afterwards, we all wandered down to the pool deck to check out the madness.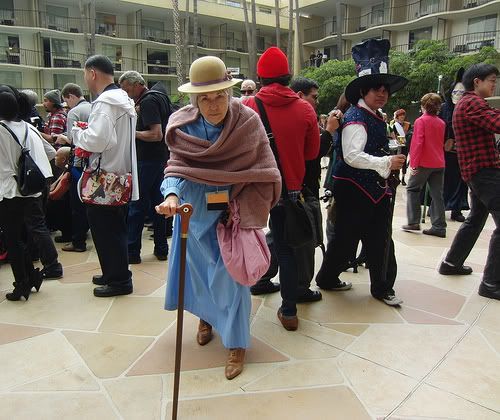 Sofie from Howl's Moving Castle! Cosplayed by a lovely lady. We all loved her.

Adios and Ciao Ciao from Tokidoki.
There were many non-anime/manga people as well at this con which was pretty interesting. Lots of movie ones! Scott Pilgrim, Black Swan….

Disney girls! (lots of Tangled now too)
Death (from DiscoWorld) and me! His costume was amazing! He worked at ILM which meant tons and tons of attention to details.
After a while of making our rounds, we got Vince to take some pictures of our group.

R -> L: Me (as Dokuro), Lauren (as Zabato), Kelly (as Sakura), Alice (as Shizuka)
And then we did something new: Slo-mo videos!
Here's my favorite:
http://www.youtube.com/watch?v=FvTsQEQ6opc
Afterward, we split up and did our own things. I stayed in costume since I had nothing else planned cosplay-wise. We did go into a panel about advanced makeup which was interesting since the girl knew her stuff but we all wished that she had a power point or something because it's hard to follow with just someone talking.
I ran into my friend Crazyloststar but alas, I had no camera so no pics with that. She was there with her friends and fiance so I hung out with them for a while by the pool.

Alice during the kendo workshop.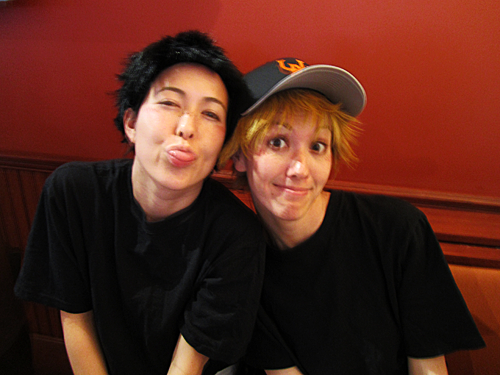 Yoshiko and Kelly as Tajima and Mihashi from Oofuri! (Big Windup!). So adorable.

Met up with them again a little later while they were shooting by the pool. Yoshiko was cold and I had my giraffe kigurumi over my Dokuro costume so…

A pretty shot of Lauren as Tima from Metropolis! Vince got this one by making the other girls run around with their cellphones.

People waiting for Masquerade.
After all of that craziness, we ate at Champions. Because we're awesome and there was a big football game going on (meaning lots of confused non-convention patrons!). The fun thing about being in a convention center with lots of tourists and hotel guests: explaining just what is going on.
http://www.youtube.com/watch?v=HrVyn-sJjgw
Nerds.
The big rave/party was later on during the evening so I redonned my giraffe suit and we headed to the dance floor with some glow sticks that we had laying around. It's a standard otaku dance party but it's still a lot of fun dancing with friends.
We ran into this:

(it's a picture of us from last year when we were Patapon warriors. FAMOUS.)
and this:
And I also ran into my friend ManLi who was dressed as a character from Working!!. He was pretty silly. But I tucked in early because I was exhausted. GETTING OLD SUCKS.
PART THREE SOON.
Photos by Vince, Kelly, and Space Pirate Queen!