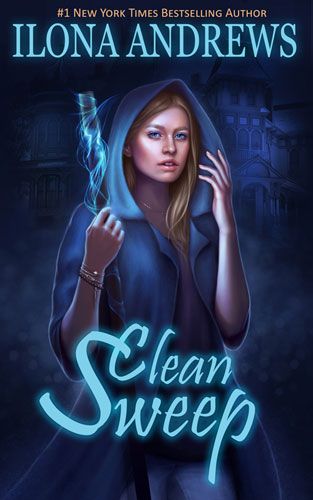 I'm going to start off by saying I'm already a big fan of Ilona Andrews (pen name for husband and wife writing team). I've been following their Kate Daniels series for years and dip into their other writings from time to time.
What I love most about their writing, and the biggest strength of Clean Sweep, is their world building. They come up with really interesting ideas and build really strong, realistic worlds. As realistic as you can be with magic, werewolves, and vampires.
Clean Sweep is about Dina, who is an inn keeper in a small Texas suburb. But she doesn't run a regular Bed and Breakfast. Being an innkeeper is kind of like being an MIB agent and her B&B is kind of like a TARDIS without the Time. So ARDIS. Less catchy, but the inn has just as much personality and you start to care for it the same way. Her clients are intergalactic beings passing through Earth and her main job is to keep them safe and happy.
This is all going along quite well until a werewolf moves into the neighborhood and dogs keep turning up dead. Then cattle start getting slaughtered. Mr Rogers neighborhood this is not. Eventually some space vampires show up and things get action packed. There's a little bit of romance/flirting, but it's definitely second string and doesn't get in the way of the story and didn't make me want to pull my hair out, the way love triangles generally do.
The other strength is the drip feeding of mystery. There are bigger things getting introduced here, like the disappearance of Dina's parents, and the history of her exiled aristocratic guest, and it really adds spice to the dialogue with little hints keep getting dropped in. It made what would have been quite a short novel feel full of bigger things and left you wanting more.
Overall, it's a really interesting concept and it takes what seems like a regular vampire/werewolf romp and throws it into science fiction, which was a really refreshing change.